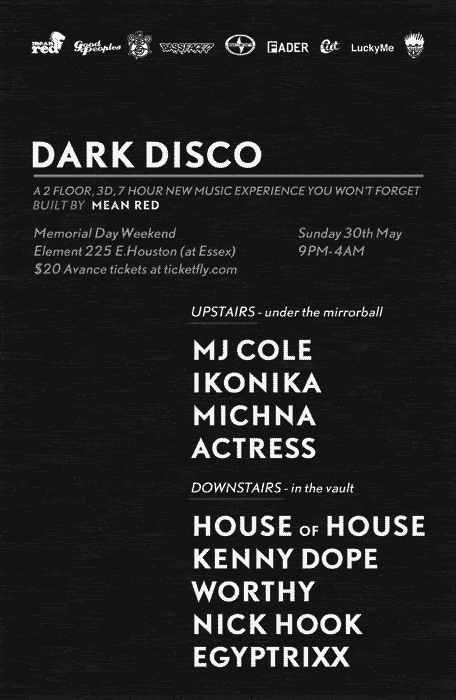 Mean Red have been making ninja moves this memorial day weekend with a slew of terrific parties, but the one to really capture our attention has been Dark Disco. The name itself seems to conjure up Dubstep's roots in El-B's Metalheadz inspired UK garage circa 2000 as well as the acid and garage house of 90's New York rave era. Boasting two floors of house, funky, bashment, dubstep and, presumably, disco, this might as well be a rave (shhhh). Assumptions about the history behind the name are put in more concrete terms when you look at the lineup Mean Red, Konkrete Jungle and others have assembled. At the top of the list - and for good reason - is
MJ Cole
. Mr. Coleman's production skills have consistently hit the mark from for over 10 years with the countless tracks re-released on compilations testifying to the importance of this man's contribution to the evolution of UK garage and house. His recent Riddim EP carves out a expert combination of ragga/dancehall's effectively sparse compositions, garage cheek and sound design subtlety. Not to be missed.
He is followed up by Ikonika whose productions have consistently pushed dubstep in the direction of downsampled synth-heavy melodies and wonky innovative rhythms. Her album on Hyperdub early this year, in addition to a seemingly endless stream of remixes, all have a stunning precision and brazen combination of estranged electronic motifs. Speaking of melding disparate styles, Adrian Michna (aka EggFooYoung) has been smashing musical influences together in his head for ages. His "No Back Seat" on Ghostly International's 2 Disc

Horizon Line

pits crispy Vibert-esque percussion against warped vocals and hard-rock guitars. More decidedly on the house side of things, Actress has a penchant for tossing strange vocal tidbits and lurching loops into seductive grooves. His double LP out earlier this month continues the journey into the inner reaches of the dark house nether world. Phew ... if that weren't enough the downstairs has the one and only Kenny Dope at the helm! A legendary producer and one half of re-edit wizards Masters At Work, Mr. Gonzales is due credit for influencing multiple generations of beat breakers, remixers and hip-hop and house Dj's worldwide. Obviously not limited to any singular genre there is no telling exactly what we'll hear from him tonight. Whatever it is, it's got to be funky. He is joined by deep house duo House of House, SF's Worthy, Brighton's Nick Hook and ... Egyptrixx! Toronto producer Egyptrixx first came to our attention with his Nightslugs EP back in March. His recent work, while comparable to Ikonika's in it's irrepressible wonky palette, is rife with funky hooks and shuffling drum patterns and spine tingling bass. He's also done some retarded dubstep tunes;0 More than a few minds will be blown when this man steps up the decks. 7 hours of music, two floors of DJ's, one incredible event worth every penny. Don't Sleep Folks!