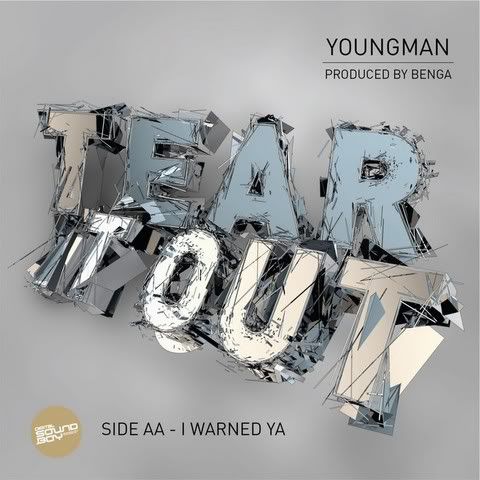 I was excited to see a release date for this... and on Shy FX's
Digital SoundBoy
label no less... Shy's label has definitely been on fire lately.. from Breakage to Redlight to Youngman, Drumsound + Bassline Smith remixes etc...
a lot of producers I'm checkin for lately have at some point, dropped a gem on
Digital Soundboy... so props to them..
-At what point Youngman and Benga teamed up together, I'm not exactly sure.... One of the first tracks I heard from the two of em was for
"Ho"
, which I still have on heavy rotation...(a fav of the ladies every time I drop it- no b.s.)...
"Tear It Out" follows suit nicely... Youngman and Benga's collaborations fuse dubstep with a touch of pop sensibility, and strong vocals...
and sure... you can play 4hrs worth of earsplitting brostep synth tracks, but at some point u gonna need to take a break, and ur gonna wanna dance with a girl... get ur grind on or whatever... thats where tracks like these come in... its like hip hop in a sense..... u gotta play something for the ladies as well... its fun for everyone...!!
and a quick disclaimer.. my fav track on this release is actually "I Warned Ya"... its like a 90's hip-hop + dubstep track smashed together... the head -nod factor is high for this one... not all might agree... but I don't really care lol... it makes sense to me...
peace to Lost and Bannerworks... etc.. some of the 1st DJ's I heard spin it... I'm sure there were others.... intro is sic tho
u can check the video for
"Tear It Out" here.....
-there's maddd releases I wanna get to.. so keep it here!!