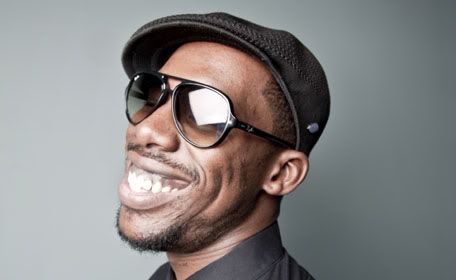 so I started this post in a bit of a last minute blast to let people know Flying Lotus is playing in Brooklyn tonight... but I've just realized its Sold Out.. and that just confirms the reason for this post...
I had the insane good fortune of finding out about a - sorta last minute free show from Flying Lotus last night... was on a definite late night thing... doors didn't open until midnight.. I've been trying to catch him for a minute... and for one reason or another I would always miss the show.. not this case!!! it was definitely one of the best shows I've seen in a while... the line was wrapped around the corner to get in... my only beef is that the club shoulda had more bartenders working... they were gettin killed... i ordered double so I didn't hav to wait again ; )
as soon as Flylo hit the stage... entering during the last few songs by a live jazz crew, headed by bassist
Thundercat
I knew for sure it was gonna be something special.. his vibe was very welcoming on-stage, and you could tell without a doubt he's good people... everyone was just vibing.... from the first track he dropped the crowd went nuts... was a definite dance party... a smokers paradise.... So if Flying Lotus comes to ur town... i highly recommend it... pun intended.... anyway u wanna flip it... im def tryin to catch him when he comes thru next time
keep an eye out for this dude
Teebs
he's nice with it...check the link..