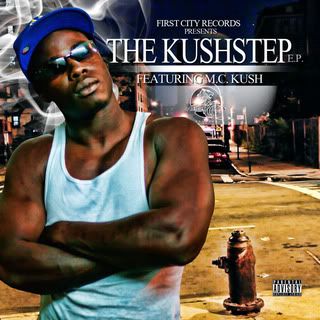 and without further delay.... we here at First City Records are proud to present the first solo EP, from the one and only... M.C. Kush... a true soldier and early member of First City... no doubt its been incredibly long over-due, but glad it's finally here.... Very hyped about this release... Big Up to Kush and all the fam!!!
The Kushstep E.P. Featuring M.C. Kush


-Born in Birmingham England, and later moving to Brooklyn, NY as a youth, Kush was introduced to sound system culture early on, and by age 4 was moving speaker boxes for his brother's sound system. With frequent travels between the U.S. and U.K., Kush's passion for music would eventually lead him to Pirate Radio in Birmingham.... hosting shows on Kriss, and Passion FM, where he could be found dropping the latest in RnB, Reggae, and UK Garage... the So Solid Crew being a heavy influence. Back in the states, Kush teamed up with Drum and Bass / Garage producer Dinesh... a collaboration which ultimately landed him at the world renown Drum and Bass weekly Konkrete Jungle. There he would cross paths with MC K Swift, and from which the beginnings of First City would form.-

The Kushstep E.P. stands as a testament to the sounds and influences of the UK music scene. With Bookz on production, the Kushstep E.P. pulls heavily from Dubstep and Grime, with elements of American Hip Hop interspersed. The tongue-in-cheek vocals of "Wheelchair Riddim" are sure to grab even the most jaded of listeners. The hook speaks for itself, and in no uncertain terms... leaving the bassline to smash the dance floor from the ground up. The lyrics of "Shame On A N***a" serves as a warning to M.C.'s bent on disrespect, while its dark, Dubstep imbued synth-line moves with an almost hip hop-esq swing. Next up is "Foolish Games", which features Brooklyn-based RnB vocalist S.V. and is an ode to fallen First City soldiers... its vocoded style synth work, weaves its way between a haunting backdrop of bass stabbs and eerie pads. Closing out the E.P. is the dubstep roller "Iron Zion", whose message is directed towards disingenuous revolutionaries, who talk more than act... its driving bassline and sonic landscapes, complement Kush's lyrics while bringing a definite sense of urgency to the track...
"The Kushstep E.P." is available at
Itunes
,
Amazon
, Juno and direct from the
First City Record's
Bandcamp
page.