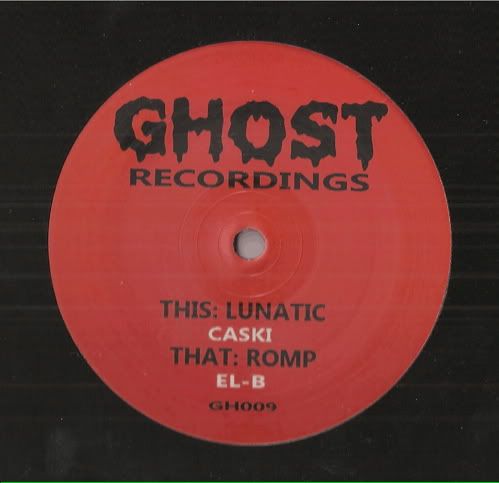 time for some f***in vinyl this week... why does vinyl have to be so expensive to produce / purchase. maybe someone can come up with a viable alternative to bring the cost down.. even just a little would make a big difference (obviously without suffering on sound quality...) I'd be buying more.. thats for sure... one vinyl I did pick-up last week, was the latest from El-B's Ghost Recordings ....
EL-B "Romp" - although this one has been around on dubplate since last year.... (even with an unofficial
Wiley
vocal... lets make that happen) it's a track I've been keeping an eye out for.... the name alone gives a clue to the vibe of the track... and I don't know what it is... the reverse vocal that fades in reminds me of Black Moon's "How Many M.C.'s" - (the way it comes in at least...) check it out, you'll see what I mean... definitely a big tune!!! bass-line is sick
Caski's "Lunatic"... I first heard this track on a J Da Flex set sometime last year on an unsigned -hype type of thing.. no question why this got snatched up.. pure high energy vibes on this one... and for real.. it would sound lovely next to a Kutz tune... I can hear them together already...
you can cop this 12" at all your good vinyl shops... I'm reppin
Juno
and
Boomkat
for this one... also available at Redeye.... Shouts to DJ Raggs!!