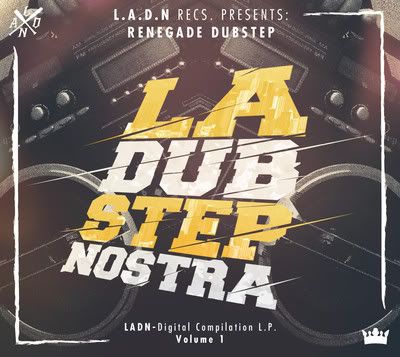 Happy Wednesday depending on where you are around the globe... just a quick one from me today... From time to time.. and this happens a lot.. I get fixated on a track. listening to it multiple times a day, until it seeps into my subconscious...
feels like one day I'm gonna wear out the rewind button on my ipod.
In this case its Enme's "Back Da F*ck Up", which features vocals from MC Flyte... currently out on the latest compilation from LA Dubstep Nostra. The "Renegade Dubstep" compilation showcases tracks from a wide range of producers including... Itchy Robot, DJ Enme, 6BLOCC, Zaku Chan and others.
On "Back Da F*ck Up" MC Flyte's vocals add a nice touch to Enme's already scorcher of a track. "I'm B.I.G. on tha riddim... I'm vocally buff.. made up of all the right stuff"... lyrics come swift and precise, and with a sense of urgency...
Ironically, 2 days ago I heard some sugar-pop Dubstep with a couple of MC's at an AMF Bowling Alley... no less. it felt like quite an interesting turn of events. I'm all for this genre reaching new heights and audiences... but not at the expense of its soul... its my aim to rep what I feel is the real deal, and this track holds true to that....
You can cop this compilation on
Beatport
and other fine digital outlets.. shouts to LA Dubstep Nostra